Public, Private, Hybrid, Colocation Data Center
Your Business, Your Cloud.
You don't have to be a large enterprise to reap the advantages of cloud computing and virtualization at a time when your business data has never been more critical to your business. Cloud computing delivers enterprise grade computing resources to businesses of all sizes without the initial hardware and software capital purchases which typically are required to deliver your business applications.
Cloud computing is an ever-expanding set of services to help your organization meet its business challenges. It delivers to you the freedom to build, manage, and deploy applications in secure and compliant global data centers using your preferred tools and frameworks. Cloud services deliver infrastructure in an as-a-service model include servers, storage, databases, networking, software, analytics, and intelligent management.  It delivers faster innovation, flexible resources, and economies of scale for businesses of all sizes. You typically pay only for services you use, helping you lower your operating costs, run your infrastructure more efficiently, and scale as your business needs change.Cloud computing provides easier to move to a secure, optimized environment removing the tasks associated with maintaining servers, storage of your data, while taking advantage of economies of scale.  
Cloud Computing - Business Decision Benefits
Cloud computing moves  your business away from the cost to purchase hardware and operating software (CAPex), maintaining these whether onsite or in a datacenter to a utility cost model (OPex).
Scalable, Elastic Reources
The benefits of cloud computing services include the ability to scale to the right amount of IT resources—for example, more or less computing power, storage, bandwidth— when they're needed by your business. Many providers provide the ability to self-manage this or utilize their support teams.
Cloud computing services typically run in secure datacenters, which are regularly upgraded to the latest generation of fast and efficient computing hardware. This offers several benefits over a single datacenter, including reduced network latency for applications and greater economies of scale.
Increase Support, without adding Staff
On-site datacenters and colo services typically require your IT team or 3rd party to perform hardware setup, software patching, and other time-consuming IT management activities. Cloud computing moves many of these tasks to the provider, so IT teams can focus on achieving more important business goals.
Cloud computing enables data backup, disaster recovery, and business continuity making it easier and less expensive as data can be mirrored at multiple redundant sites on the cloud provider's network.
Cloud providers help in meeting your compliance requirements via SSAE 18-, SOC 2- and PCI DSS-certified data centers. Services are designed to help meet regulations for healthcare, finance, government, energy and other highly regulated industries effectively helping to protect your businesses sensitive data.
Security - - Layered throughout
Cloud providers offer a broad set of policies, technologies, and controls that strengthen your security posture overall, helping protect your data, apps, and infrastructure from potential threats.
Clouds to Support Any Application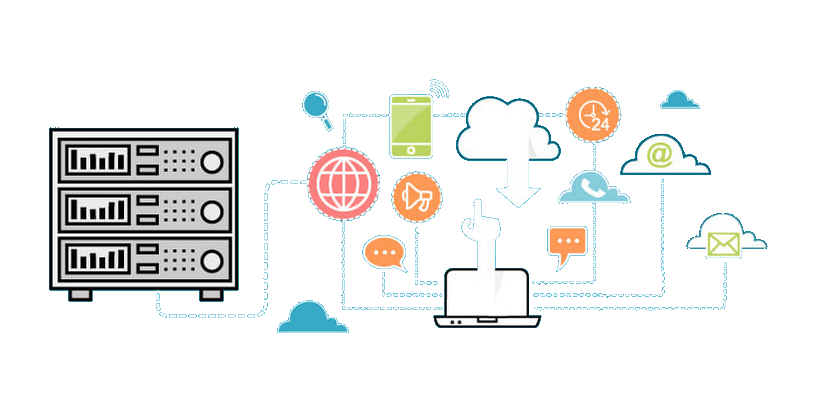 There are several different models, types, and services in cloud computing that have evolved to help offer the right solution for your needs. First, we work with you to determine the type of cloud deployment, or cloud computing architecture, that best meets your business plans current and in the future. There are three different ways to deploy cloud services: on a public cloud, private cloud, or hybrid cloud.
Public clouds are owned and operated by a third-party cloud service providers, which deliver their computing resources, like servers and storage, over the Internet. Public clouds delivery all hardware, software, security, and other supporting infrastructure in an as-a-service model with all infrastructure owned and managed by the cloud provider. You access these services and manage your account using a web browser.
A private cloud refers to cloud computing resources used exclusively by a single business or organization. A private cloud can be physically located on the company's on-site datacenter. Some companies also pay third-party service providers to host their private cloud. A private cloud is one in which the services and infrastructure are maintained on a private network.
Hybrid clouds combine public and private clouds, bound together by technology that allows data and applications to be shared between them. By allowing data and applications to move between private and public clouds, a hybrid cloud gives your business greater flexibility, more deployment options, and helps optimize your existing infrastructure, security, and compliance.
Cabinets, cages, private pods, private suites, scalable power, cooling, physical infrastructure security. Data Centers and Colocation fall into the private cloud family. With colocation services, firms are required to purchase their own servers, networking equipment, software, security for components, and management all of which reside in a data center. With this option, clients have control over the brand and configuration of server hardware and are responsible for the installation, maintenance, software licensing and backups.  
Questions as to whether a good fit for your business?
We are here to assist in looking at your business today and goals for tomorrow to determine what technologies bring value to your business.